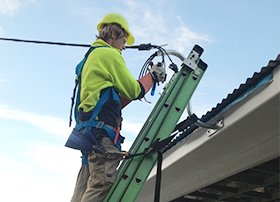 Level 2 Authorised service provider
Our team of experienced Level 2 ASP electricians are licensed and insured to provide a wide range of electrical services. With years of experience and expertise in all categories including Overhead, Underground and Metering. We specialise in Service fuse replacements, switchboard upgrades, point of entry repairs and fault finding meaning we can quickly diagnose and fix any issues you may be experiencing with your electrical system. We provide reliable and efficient electrical services to our valued customers located in Newcastle, Maitland, Lake Macquarie, Port Stephens, Hunter Valley and surrounds.
Service Fuse Replacements
Faulty fuses can cause a range of problems, from flickering lights to power outages. Our team of licensed electricians can quickly and safely replace your fuses, ensuring your electrical system is up and running in no time.
Electrical Repairs
Electrical Repairs - If you're experiencing electrical problems, don't wait until they become major issues. We offer comprehensive electrical repair services to fix any issues and prevent future problems from occurring.
Electrical Upgrades
Whether you're remodelling your home or upgrading your business, we offer electrical upgrades to meet your needs. From installing new consumer mains to upgrading your electrical panel, we can handle any job, big or small.
New Installations
If you're building a new home or business, we offer new electrical installations to ensure your system is designed to meet your specific needs. Our team will work with you to create a customised plan that fits your budget and timeline.
Power Restoration
Power failures are generally caused by a burnt out service fuse, Meter protection fuse, UV damaged consumer mains, main switch, faulty switchboard protection devices or faulty appliance. Our team will quickly find the fault and repair within an hour.
Disconnection and Reconnections
Recent changes to electrical rules now requires all circuits to be protected by a RCD. We strongly recommend updating your switchboard to meet new Saftey requirements. A big advantage of an updated switchboard with individual combined RCD circuit breakers is when there is a fault on one of the circuits, it won't effect the other good circuits. Plus fault finding is usually simple and can often be resolved with some basic knowledge that we teach all our clients.
Switchboard upgrades and repairs
Recent changes to electrical rules now requires all circuits to be protected by a RCD. We strongly recommend updating your switchboard to meet new Saftey requirements. A big advantage of an updated switchboard with individual combined RCD circuit breakers is when there is a fault on one of the circuits, it won't effect the other good circuits. Plus fault finding is usually simple and can often be resolved with some basic knowledge that we teach all our clients.
Asbestos panel removal
Our team at BMS Electrical are licensed and trained to handle asbestos. Switchboard panels containing an asbestos material should only be worked on for minor upgrades. Where possible installation of new non asbestos panel is always recommended.
Smart Meter Installations and upgrades
Our team at BMS Electrical NSW are authorised to install meters through Plus ES. This enable us to install New Type 4 Smart meters for the majority of retailers saving the need to coordinate our works with your retailer or another meter provider. Smart Meters are required to be updated whenever Consumer Mains are upgraded, Solar Installed, New sites and for most switchboard upgrades.
Mains Connection Box
This is a small plastic box located at the point of attachment. This joins your consumer mains to the service fuse and service mains. Its an old an outdated way to install your consumer mains. The Mains box can be very dangerous if damaged, loose connections or if water enters inside. Where possible we will remove the old box and make new connections inside a new Sicame HSC435 House Service Connector and protect the old consumer cable with additional insulation.
Private Pole Installations
The standard electrical POWER POLES are HOT DIP GALVANISED 100NB PIPE. The Pole is 6.5metre's long 114 OD x 4.5mm Wall Thickness and required to be at minimum depth of 1200-1500mm surrounded by 3-6 bags of standard concrete. We don't use quick set concrete as it can destroy the pole within 7 years. These poles can only be used when the overhead service is within 20metres of the network pole. Larger size poles are required if the distance is over 20 meters. As per NSW Service rules Private poles must installed within the first 1000mm of the front boundary and the overhead service wires cannot encroach a neighbour's property.
Private Pillar Installations
As per NSW Service rules Private pillars must installed within the first 1000mm of the front boundary. Private pillars are often used with private pole replacements when the consumer mains require any addition join due to being damaged or not enough length. Another reason is when the underground conduit from the network pillar to the switchboard is unable to meet the requirements or NSW service rules. Installation of private pillar will allow the underground mains to be classed as consumer mains instead of service mains allowing more flexibility with the installation.
Builders Temporary Service
A temporary builders service is generally required at the start of a new development or construction site. Our team at BMS Electrical can install the private pole, connect to the overhead mains, install temporary consumer mains, install the new meter with a powerpoint providing power ready for use.
Permanent Disconnections
Our team at BMS Electrical (NSW) can generally arrange a permanent disconnection of supply and metering within 3-10 days notice. This involves the removal of the overhead service wire and metering. In some cases the energy retailer will need to be required to remove they're own smart meter. When making a permeant disconnection request, try and have a copy of your electrical bill handy. A copy of this bill is generally enough information for our level 2 ASP team to submit the initial applications to the supply authority.
Point of attachment repairs and upgrades
Our Level 2 ASP Team can provide same day service to damaged or defective point of entry or attachments. We stock are variety of timber blocks and rafter brackets to suite your requirements.
Rectification of defects
An Electrical defect can be issued directly to a home owner or previous Electrican. A time frame will be given to rectify the defects. If warning letters are ignored the supply could be disconnected. If you receive a defect give us a call at BMS Electrical (NSW). One of our Level 2 Experts will be able to answer your questions and provide a flexible solution.
Hot Water Repairs
We specialise in Electric Storage Hot water system repairs. Replacement of thermo stats, elements, burnt wires, fuse or circuit breakers, report relay faults, tariff changes. Please note only a licensed plumber can replace the tank. If the tank is leaking or if older than 10 years we recommend dealing direct with your local plumber.
Consumer Mains upgrades
Consumer mains are the electrical cables that connect the electricity meter of a residential or commercial building to the distribution network of the utility company. These mains carry the electricity from the distribution network to the main switchboard of the building, where it is distributed to different circuits and appliances. Consumer mains are typically made of copper. They are designed to handle the maximum load required by the building and are usually protected by circuit breakers or fuses to prevent overloading and electrical hazards.
After Hours Emergency Response
BMS Electrical (NSW) and our team of contractors are working together to always have a team on standby for your night time or weekend power failures. We aim to respond and have power restored within 90minutes. Our rates for supply and installation of parts is no extra on after hours, however an increase to the service fee of between $100-$250.
BMS Electrical NSW is a leading Level 2 Electrical Service Provider, offering comprehensive electrical services to residential, commercial, and industrial clients. Our team of certified and experienced Level 2 electricians is dedicated to providing high-quality and reliable electrical services to our clients.
Our mission is to exceed our clients' expectations by providing exceptional customer service and delivering outstanding results. We strive to maintain the highest standards of safety, quality, and professionalism in every job we undertake.
At BMS Electrical NSW, we understand the importance of having efficient and reliable electrical services, and we are committed to providing our clients with quick and effective solutions. We offer a range of Level 2 Electrical services, including metering and energisation, service upgrades, disconnect and reconnect, overhead and underground service lines, defective electrical service, temporary builders' service, and electrical safety inspections.
We use only the best materials and equipment to ensure that our services are efficient, safe, and long-lasting. Our team of Level 2 electricians undergoes regular training and certification to stay up-to-date with the latest industry standards and regulations.
At BMS Electrical NSW, we believe in building long-term relationships with our clients based on trust, honesty, and integrity. We work closely with our clients to understand their specific requirements and provide tailored solutions to meet their needs.
Contact us today to schedule your appointment with one of our Level 2 electricians and experience the difference in our services.
This Authorisation permits ASPs to disconnect and reconnect EXISTING overhead service wires only, up to and including 400A, at the Point of Attachment (POA). This includes Points of Attachment on private poles.
Disconnection and reconnection under Category 1 is normally required, for example, where replacement consumer's mains are being installed or to enable repairs to service connection brackets or barge boards etc.
Installation, disconnection and reconnection of an underground service cable up to a rating of 100amps at the Point of Common Coupling and the Point of Supply.
This Authorisation permits the following work involving overhead service mains rated at 100 to 400 amps (maximum)
Category 2D Authorisation permits ASPs to install and energise whole current meters and load control equipment for new and existing installations
Price List for Level 2 Electrical Services
At BMS Electrical NSW we offer a comprehensive range of Level 2 Electrical services to meet your needs. Our certified and experienced Level 2 electricians are available 24/7 to provide prompt and professional services. Here is our price list for the services we provide:
Metering and Energisation - Starting from $300
Service Upgrade from Single-Phase to Three-Phase - Starting from $1500
Disconnect and Reconnect - Starting from $275
Overhead and Underground Service Lines - Starting from $800
Defective Electrical Service - Starting from $350
Temporary Builders' Service - Starting from $500
Electrical Safety Inspections - Starting from $150
Emergency service fee - Starting from $120
Supply and replace Service fuse assembly- Starting from $380
Please note that the prices above are subject to change based on the complexity of the job and the specific requirements of your property. For an accurate quote, please contact us to schedule a consultation with one of our Level 2 electricians.
What does a level 2 Electrican do?
A level two ASP (Authorised Service Provider) electrician is a licensed and qualified electrician who is authorised to perform electrical works on the electrical network and infrastructure owned by the electricity distribution network. They are responsible for installing, repairing, and maintaining electrical systems that connect to the electricity network, including overhead and underground power lines, substations, and service lines.
In addition to performing general electrical work, a level two ASP electrician can also perform specialised tasks such as:
Disconnecting and reconnecting electrical supply to properties
Installing and upgrading metering equipment
Installing and repairing consumer mains and service lines
Performing live electrical work on the high voltage network
Issuing compliance certificates for electrical work performed on the network
Level two ASP electricians are required to have completed additional training and hold a valid accreditation from the relevant state electrical safety authority. They also need to adhere to strict safety procedures and regulations when working on the electricity network.
What causes services fuses to fail?
In 95-98% of cases the service fuse burns out due to old age. A new assembly is required to be replaced. If the fuse cartridge only is replaced it will burn out again within a few days. In the other cases the fuse could blow due to fault within the consumer mains, mains box, main switch or fault with oven or hot water.
My RCD Saftey switch keeps tripping. How do I fix?
The cause for RCD fault is usually a faulty appliance that is plugged in. Other factors are faulty protection devices and faulty wiring. 1st step to repair is to turn off and unplug the appliances that aren't working. Start with kitchen, laundry and any outdoor outlets. Try and reset RCD. If it resets you have disconnected the faulty appliance. Its now a process of elimination until you can determine the faulty appliance. Most common causes are fridges, freezers, electric jugs, dishwashers, power boards and recently issues with sewage pumps
How much does it cost to replace a service fuse assembly?
Most Level 2 electricians have a similar pricing structure. You should be able to receive an estimate price over the phone from the level 2 ASP. Normal Hours 7am-4pm with service fee + supply and install parts $380-$450
Late afternoon after 5pm or Saturday day 7am-3pm $450-535
Late at night after 9pm, late Saturday afternoon after 3pm or anytime Sunday/public holiday $580-720
How do I know if my switchboard needs to be updated?
Take a photo of your switchboard and send to our online enquire form and we will respond within 24 hours.
What does ASP stand for?
Authorised Service Provider
Newcastle
Lake Macquarie
Maitland
Port Stephens
Services
Like us on Facebook